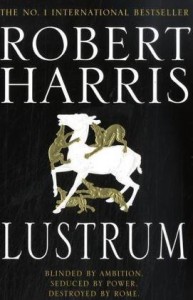 This is the second part of Harris's Cicero-trilogy. The author claims that you should be able to read this book independently, but in my opinion you should have at least some idea about the various alliances and enmities that made up "Imperium".
Lustrum spans 5 years, beginning at the eve of Cicero's 1-year consulship when a young slave, owned by Cicero's co-consul Hybrida, is found mutilated. What follows is a row of unholy alliances to thwart the attempt of overthrowing the republic by Catilina and his followers. While Cicero is hailed saviour of the republic, his adherence to the rule of law opens the door for the rise of the mob on the one side and Caesar's rule on the other, disregarding protocol and pushing through legislation via bribery and threats. The senate's power is on the decline, the government now consists of Caesar, Crassus and Pompey with narcissist Clodius ruling the mob. And Cicero has to flee into the night.
The last 100 pages or so quite honestly gave me the chills. Cicero might have thwarted the most overt attack on the republic during his consulship... but he couldn't prevent the slow decline, the rise of the mob and Caesar's usurping power. Everytime he thinks he has slain a monster, it grows back 7 more heads. And that's rather disquieting. Of course, Cicero's not without blame, either. He chose to rest on his laurels, he made pacts that later on bit him in the behind, he wasn't careful enough about whom to trust, and that's what leads to his fall from grace.
But the chilling sensation doesn't only come from the story itself, the tale of a corrupt republic that tears itself apart. No, rather than talking about the long lost Roman republic this novel feels damningly real in this age and time where we see mob-like movements on the streets and online, where we see demagogues taking control of that mob and pointing fingers (and the mob mindlessly following), where we see established parties stuck in corruption and self-annihilation, where we see so much anger, hatred and negative campaigning instead of enthusiasm and new ideas, where we see divide and conquer instead of unity and common ground. Sounds pretty relevant in the current climate to me.
Overall, a satisfying and thought-provoking novel - on to part 3.